👉 Italiano

Travelling and Writing Entangled
After my last journey to Istanbul, I've learned that the urge of writing a novel and the one of traveling are more entangled than I thought. That the idea of writing pushes you to travel and the passion for traveling enhances your writing world.

Last January I had the chance to visit again Istanbul, which is one of my favorite cities. But I didn't go there just to have fun, I went there mainly because I had in mind to set part of my new novel there. So, I needed to check again some places I've already been before, this time with a new purpose.

Is that easy? No, it isn't.

Now that I've completed my novel, I can show how traveling and writing blend together with practical examples. I hope English native speakers may forgive me if my quotations taken from my novel are not so effective when reading. I'm an Italian native speaker and I tried my best to translate from the original text in Italian, in order to channel my thoughts to the readers.


One of the first things I noticed while traveling to Turkey was the fact that Turkish people believe I'm Turkish too and usually address to me in their language. Believe it or not, in Istanbul many people have a quite light color hair, sometimes even light color eyes. When I decided to set part of my novel there, I realized that this was something worth pointing out, also to facilitate the interactions of characters. That's why I make it clear immediately in chapter one, in a dialogue between Alessandro, the main character, and one of his two best friends, Luca.


Fortunately, another of the flight attendants comes to interrupt him before his dissertation ends. She approaches and speaks to us in Turkish. I answer in English and then she asks us if we want to buy something to eat.

"Did you see it?" I tell Luca

"See what? That Turkish women are hot? I'm noticing it… "

"No, I didn't mean that. Did you see that she spoke to us in Turkish? The fact is that we too are believed to be Turks, perhaps not like the ones from eastern Turkey, but we suit as inhabitants of Istanbul. "

"Ah, so is this normal?"

"Yes, I was surprised the first time as well. Now I understand that they think I'm a real Turk. You saw that there are also blondes. Okay, just a few, but it's not something so Oh my God for them. "

"Get used to it, this is Istanbul, baby."

"No, this is the plane, idiot. We still have to get to Istanbul."
Another thing that I already knew about, was, of course, the Turkish coffee tradition. But I missed many details on my previous trip. Instead, traveling solo the last time, I could realize a bit more about Turkish habits.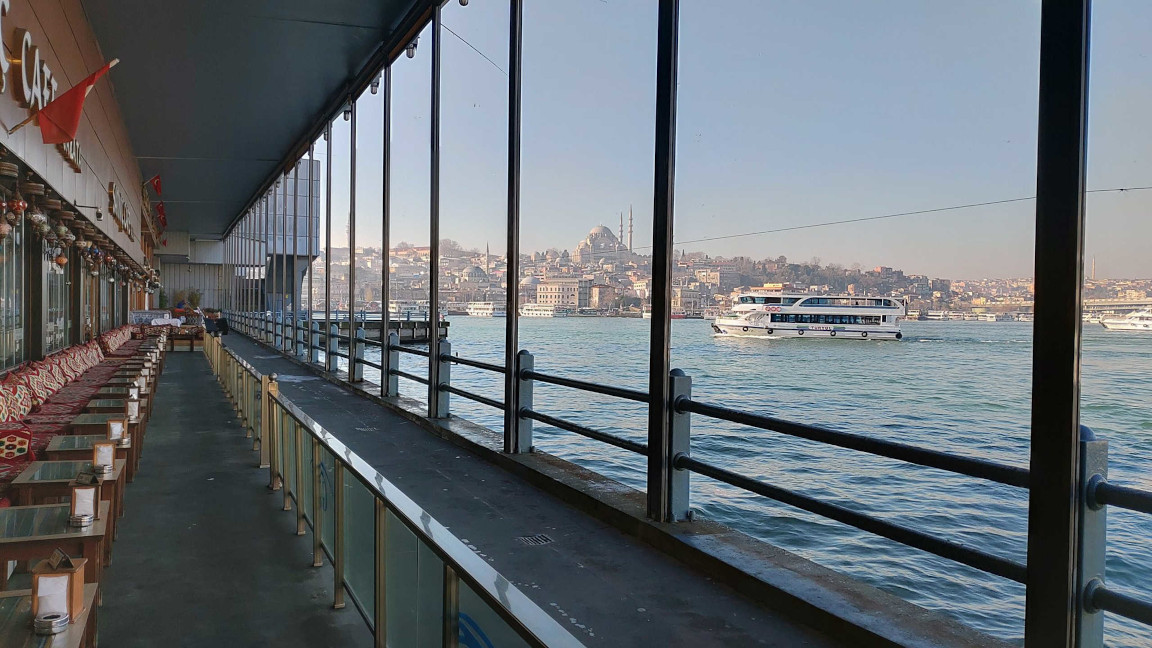 The Galata Bridge is characteristic not only because it connects the old part of Istanbul to the northern area of the Golden Horn, but also because it has been used as a suitable place to live. At the bottom of the bridge, in fact, it is full of shops, especially cafes and restaurants. From the top, many inhabitants of Istanbul throw fishing rods and spend the days. So, you maybe stop to have a coffee and you notice a series of threads, not many, that hide the fantastic view. But everything is folklore and everything is welcome. In fact, we cannot resist the temptation of the first Turkish coffee. We will never be able to divine from the coffee grounds. But we are very good at drinking it. When you order it, they usually don't bring sugar to you in Turkey. They ask you first if you want it sweet, how sweet you want it. Or if you prefer it bitter. In all possible worlds, sweetness will always win for me. It kills the coffee, someone may think. Yes, but the illusion of a welcoming world survives. This means a lot to me.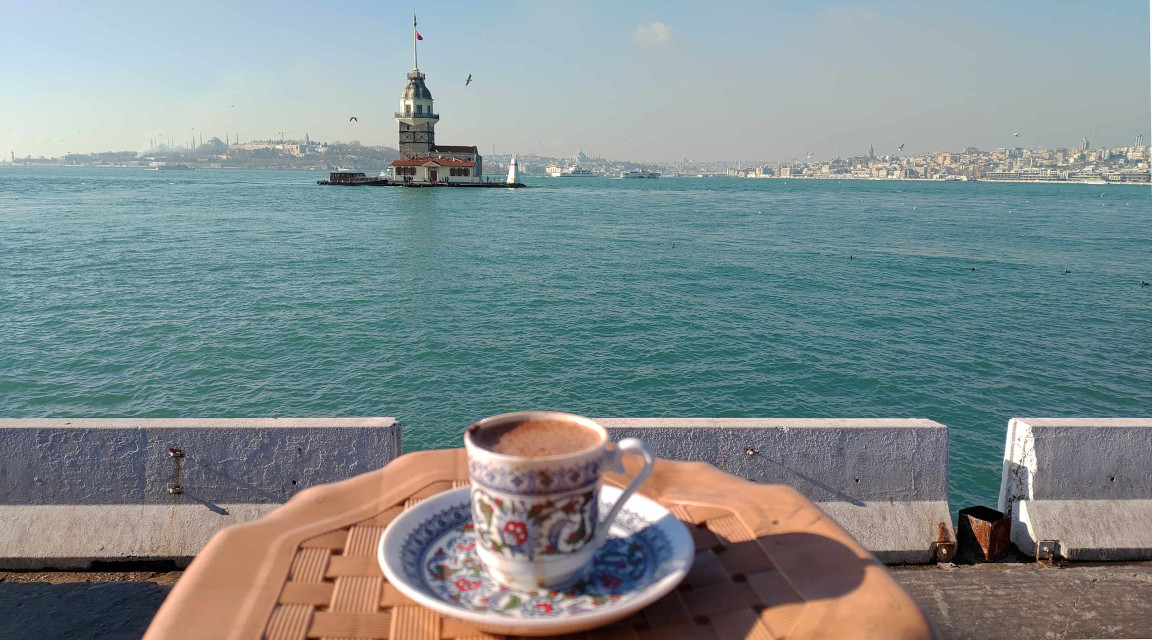 And finally, it arrives, in a wonderful cup. The Turks can surprise you in the decoration of the service, even if you are having a coffee prepared more or less on the street, on some graceless steps. Having another stool as a table, a stool which just some moments earlier supported some other ass. But the cup remains impeccable, the coffee too.
And the last thing I knew already was the fact that Istanbul is full of cats. They are everywhere. So, I took the chance to think about a post on my blog which could explain this big connection between Istanbul and cats. (You can find the post ). I started going around to take pictures of stray cats, but in the end, I got much more. Like I described here: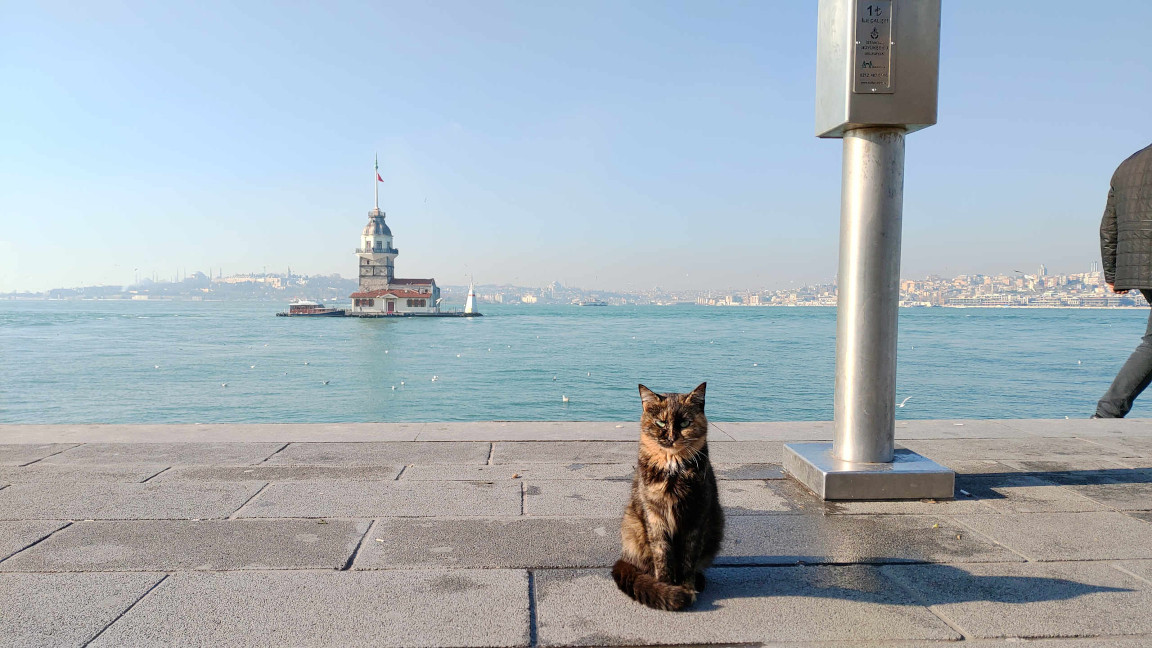 I see a cat, it isn't difficult to find one in Istanbul. But this is right next to the steps. Quiet, looking for contact with humans. Caterina loves them, I decide to take a picture of him with the sea, the fantastic day and the tower in the background in the distance. And what does he do? He even poses for me. Or so it seems.
But then, simply going around, it happens something fascinating, that you would never expect. Something which impresses your soul, that you will bring back home with you for sure. And then you need to put it in words, you need to pass your experience to your characters too: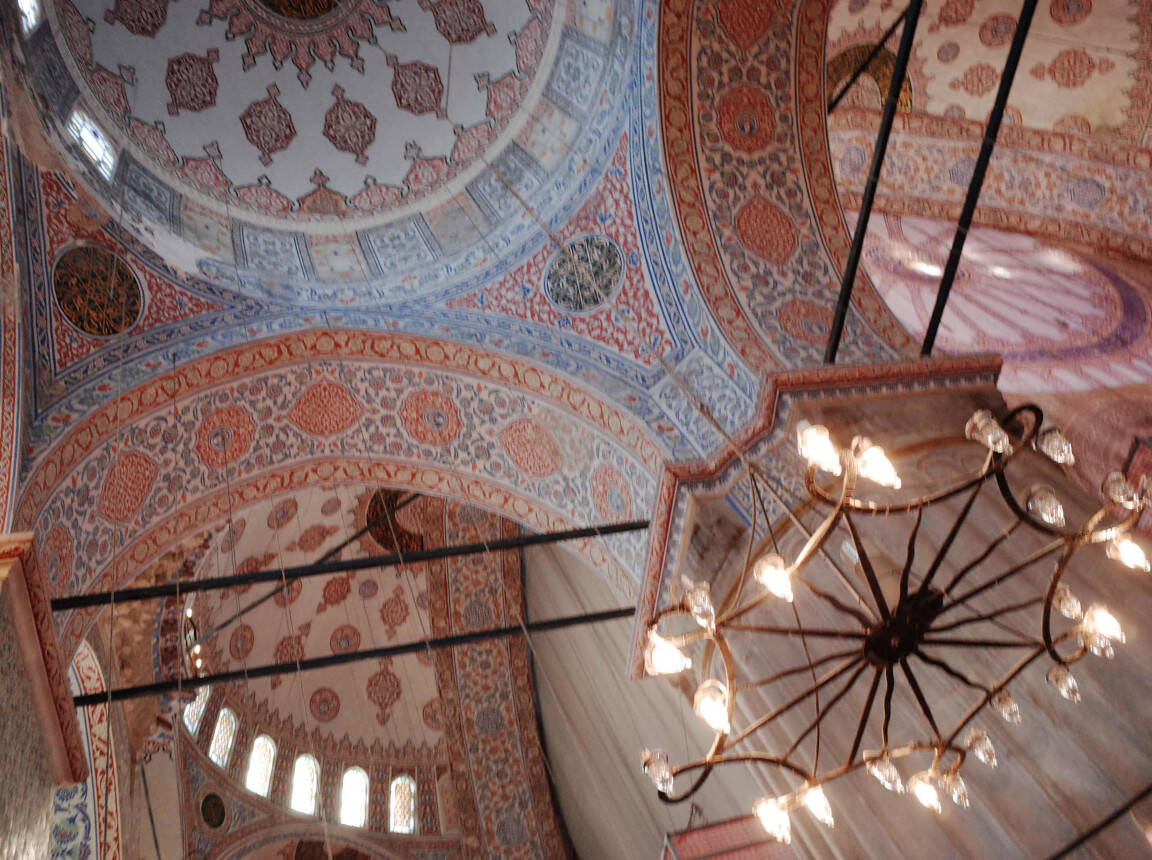 At some point we arrive near a mosque, I think it is the Nuruosmaniye, but I'm not sure. I didn't think today was Friday. And that we got there at the hour of prayer. Maybe it's because of the speakers, maybe it's because of the worshippers. Probably the effect is joint. We find ourselves in the middle of a small square as if we had put ourselves at the acoustic center of the show. The voices, the cadenced sounds come from all sides. I am overwhelmed by it. I try to turn around, but I also see my two lost friends. None of us have the courage to say a single word. Are they stabs or are they caresses? I do not understand. Probably it doesn't last more than thirty seconds, but they seem thirty eons. I can't wait for it to stop, I have no idea when it will happen. At the same time, I'm afraid it will end. And then, suddenly, it subsides, life returns to flow normally. My friends and I, however, remain stunned for a few moments. I unlock myself by mechanically observing the map. "Let's go from there." I say. And they follow me.
And when you think you're safe from any other stirring, you finally realize that the whole environment has plotted against you all the time. That's what the ubiquitous sea in Istanbul did to me, at least.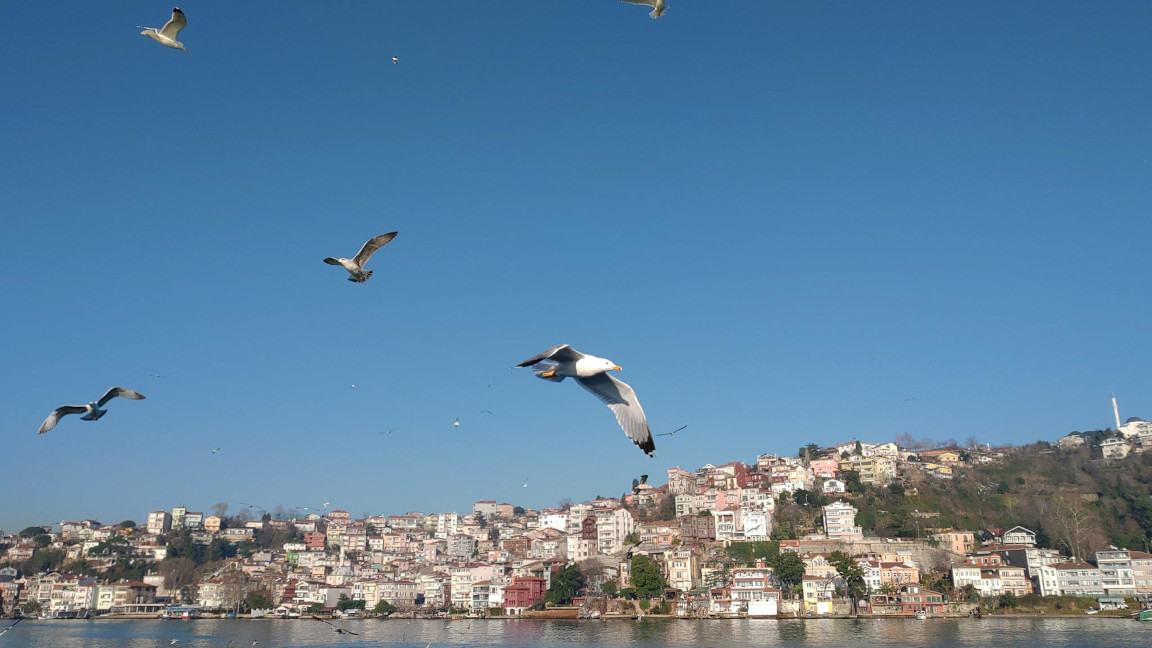 So, I realize that I feel almost nothing, that everything frays in the distance. And perhaps it is this sea, this wonderful and cursed sea that helps me. Which runs away in all directions, which shuffles, always remaining the same itself. So that it even gives me a semblance of serenity. Meanwhile, the old gentleman got up, he also made a gesture of greeting with his hand. That I reciprocated. And the bench is not empty anyway. Now it is Caterina who sits over there. She looks at the sea too. Then she turns and smiles at me as if to say: "Nice, isn't it?" All in a simple, non-pretentious way. I believe this was the life she expected.
So far, I said what happens when you travel with the purpose of writing. But I completely neglected the other side. Because traveling pushes you to the act of writing, if you got the writing thing inside yourself. All those memories, all those trips are with you forever, they claim their space in your stories sometimes.

For example, I needed to bring back the main character to his youth days. And I had a quite blurred memory of Paris, which I visited a few times, but it's been a while I didn't get back there. So, I transferred my feelings towards this city to my character's past.


A normal 20-year-old guy, alone in Paris, would find a way to enjoy it anyway. But I don't know if the same could be said of one who is a half nerd and half a countryman. Well, maybe in Tokyo I would have found something to do, between Akihabara and Harajuku. But in Paris, sparkle and greatness, caresses and roars, what could a loser like me do? I couldn't even get on the Internet, which was still in its childhood. And today I wonder how I managed to live without a smartphone in my hand all the time. I didn't even have the classic good book to read. Maybe because I had left room for socks. Unconsciously? Maybe …

My girl, I'm the one from the usual pub, with the usual group, the one with the wooden scratched planks. The kind that if someone engraves them with a key, the manager is even happy because he gives life to the place. But we didn't dare to do that either. Beer, chat, maybe french fries, 1 am. Bedtime. Cyclically, every weekend. And you take me where the wine jauntily flows and shakes the souls, amid people as quick to celebrate as to go on strike and go out on the street. And you take me where youth hovers in flight, girl. But I need stairs to go up, I must build them one by one.

I have traveled the world by now and I don't go to many rickety places anymore. But that awkward boy is still there, my Dafne, hoping for his cold beer and to reach all the X marked on the map of Paris. My Dafne.
The daily happenings sometimes can leave you a mark too. Then that's how I ended up describing something happening during the most boring traveling in our life: the daily commute.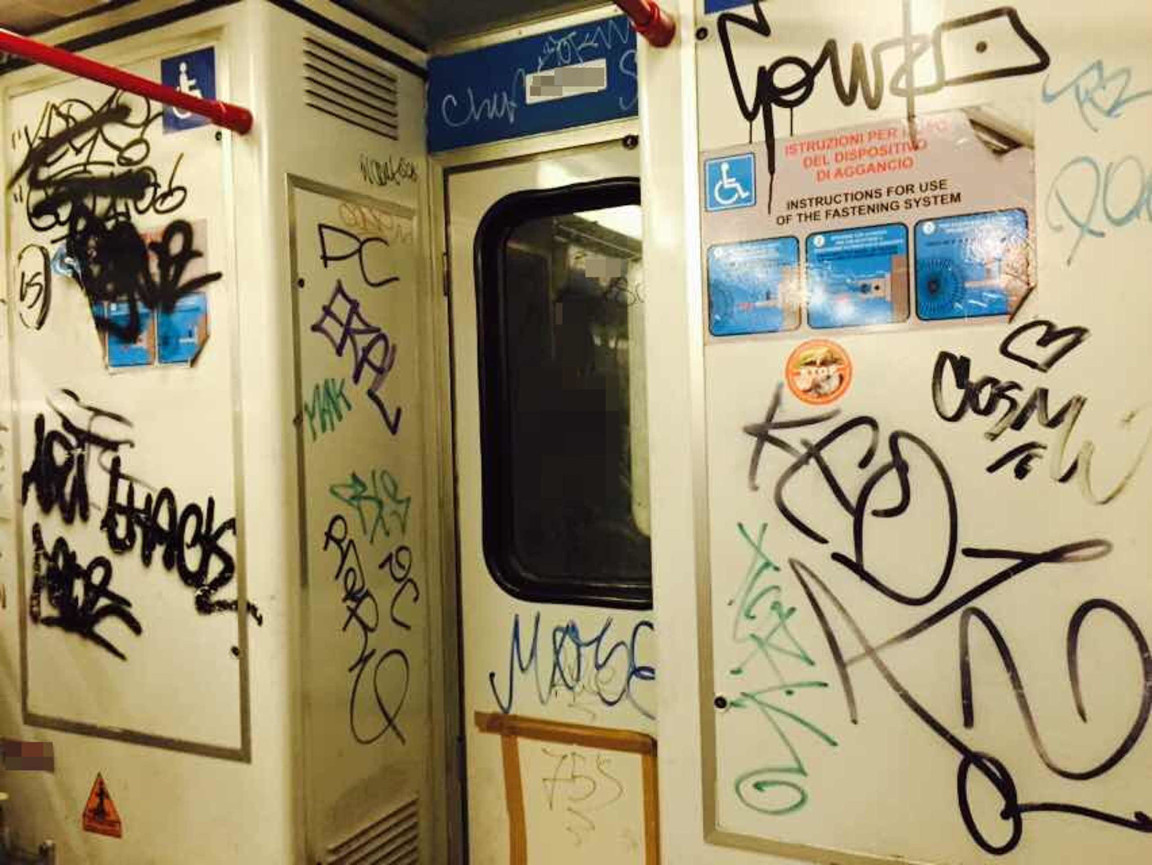 Then lately some nice encounters happen. There is a beautiful girl, and I say it in the most chaste possible way, who often gets on my own train at the Termini stop. And we share a part of the journey. A few days ago, the subway was full: that's not infrequent during peak hours. And then I found myself in her proximity. I had her face no more than thirty centimeters from mine.

But even the good things end in the few minutes of a few stops, if the metro doesn't break down. That happened, of course. But without the saving aura of that girl. Then it doesn't count. So, I sadly proceed to the office.
But then again, my recent trips keep beating inside my mind, they claim acknowledgment. So, I needed to dedicate a few lines to my beloved Luang Prabang (which I've already written about ).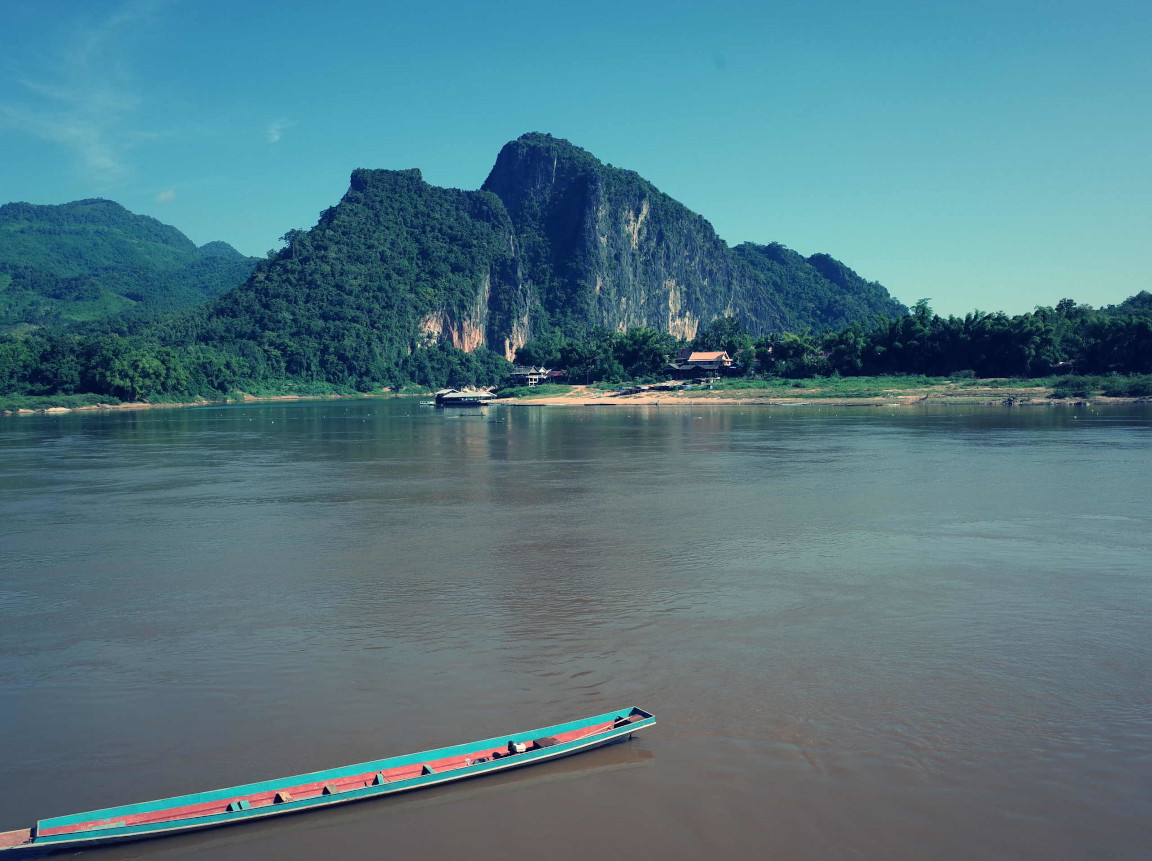 We dream inside a bed, sometimes we even tried to do it in reality, my Caterina. Like that time in Luang Prabang, Laos. Do you remember? You had fallen in love with that city, with its temples, with that sleepy light that seems to invite you to drop everything and never move again. And you fell that time. You got seduced. And you didn't want to leave anymore. The waterfalls, the caves, the ubiquitous Mekong river. The smiles of the people we met…
The same goes for my Ukraine trip, which was one of the most unexpected and amazing I had recently. There was this moment, this setting. Everything together, I'd say. It was during that trip I had an idea for this novel. I should say I had a shapeless idea even before. But here I got that special moment. It gave me the sparkle, it gave me the title. The novel is finished by now.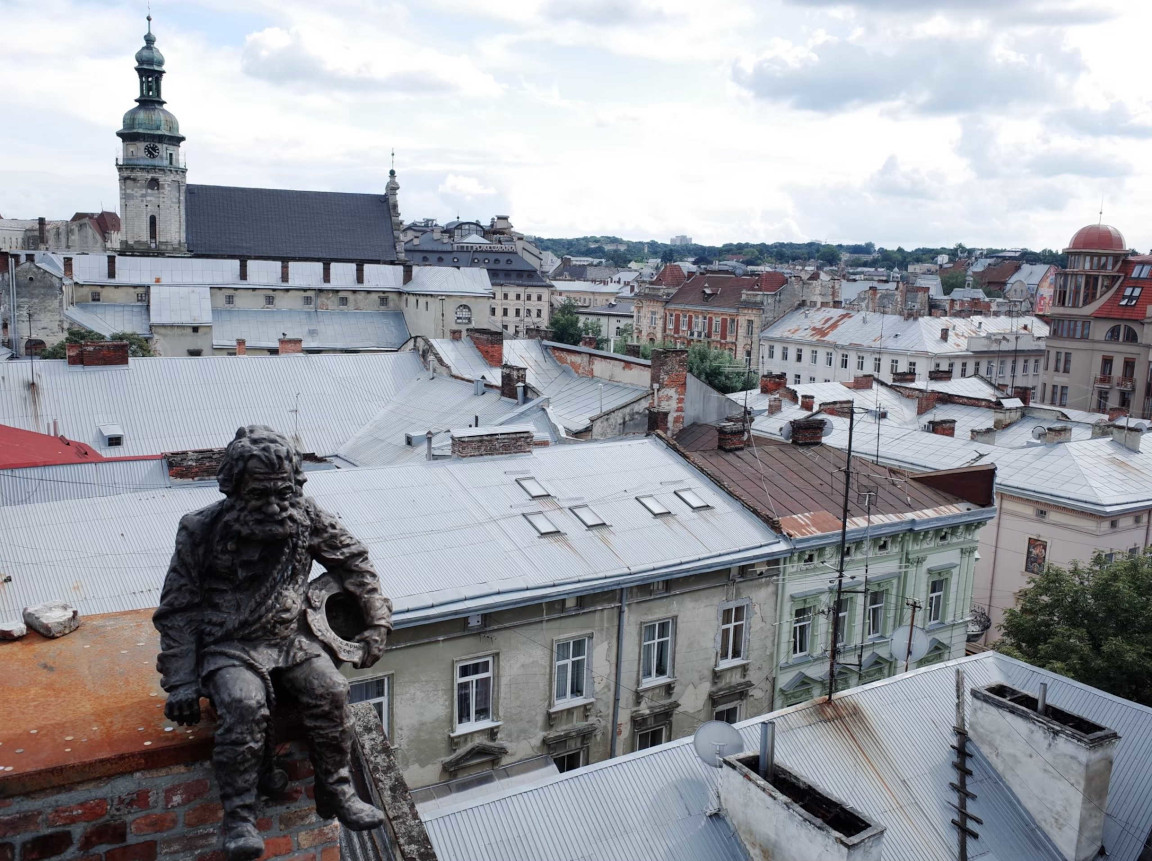 We are in Lviv, Ukraine. A city with a very complicated history. But I'm not interested in going into it, at the moment. Okay, the city center is well kept and nice. Outside of it, the city looks a little less well. End of introduction. But what I'm going to tell has happened downtown, anyway. There is a building, which is half museum, half restaurant, half pub. This sums up to 1.5, but it doesn't matter. There are a few floors, like six, I think. And now I jump all the others and go up, up, up, to the roof terrace, outdoors. Here, the place is even more bizarre: there is a small car which you can get in and take some great photos, so it seems that the car is flying over the city. On the terrace, which is not even that big, only a few tables fit. And then there's this statue, I think it represents a chimney sweep. In fact, it is in an elevated position and keeps an upside-down top hat.
And in a moment, it all makes sense. Everything comes together. That's when you start projecting, reordering your thoughts, giving life to your characters, giving them a background for interactions. That's when you find yourself on a plane to Istanbul. And inside the pages of your future novel.


---
You might also like: