👉 Italiano

Luang Prabang calling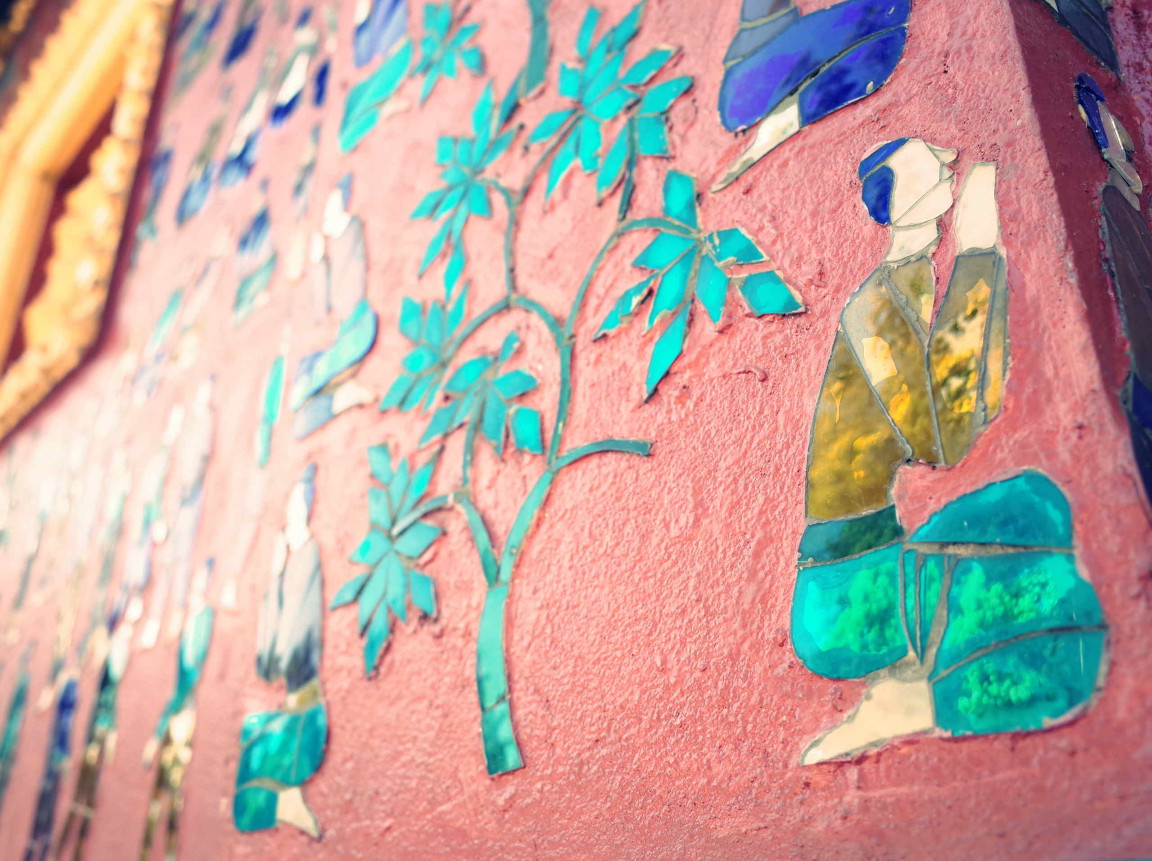 My first frame of Luang Prabang was probably a well-educated boy, around 20-years old, welcoming us at the reception of our guesthouse. He was extremely polite, he did his best to introduce the city to us and to show us our room. We immediately realized that he was enjoying talking. He was working, okay, but he was very enthusiastic about it. Chatting later with him, we learned that he was a university student, working part-time to pay his expenses. His major was English, that's probably why he was so zealous about his job, giving him the chance to practice and to improve it. What you call a win-win situation.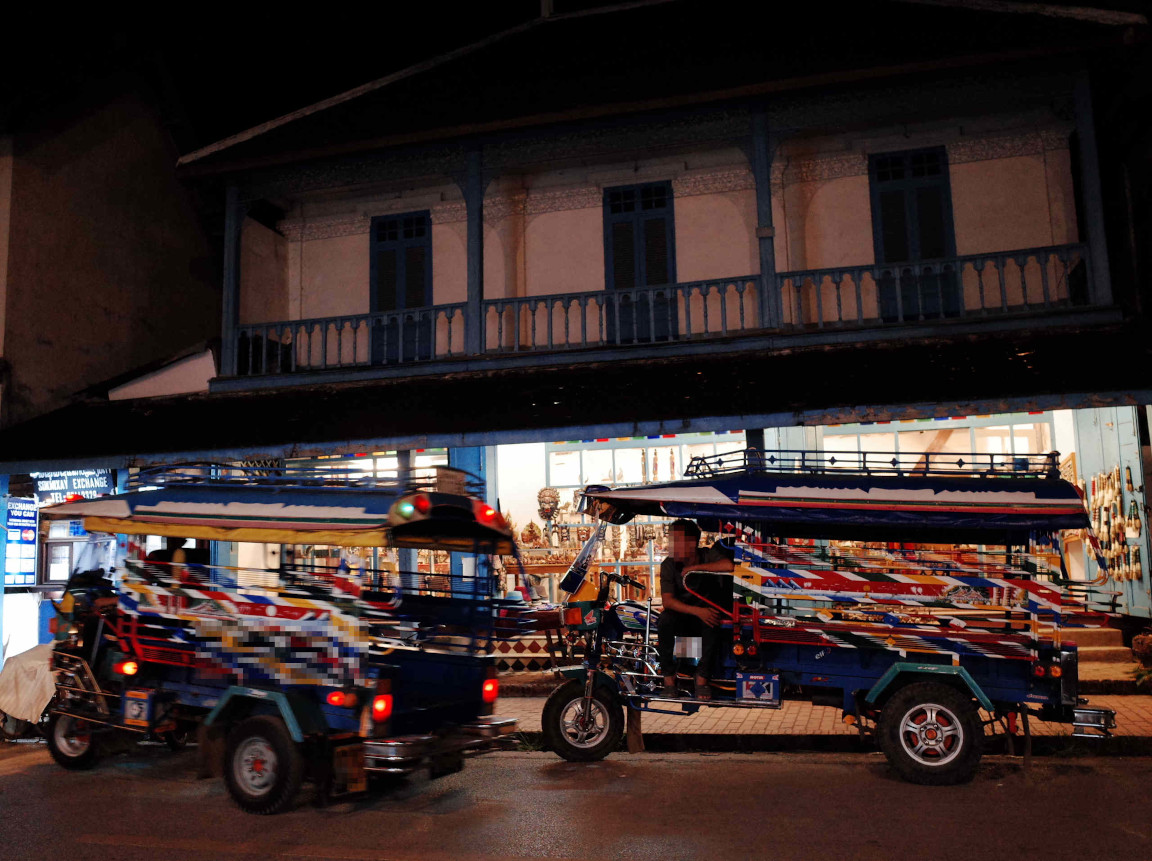 Thanks to his advice we went out enjoying the city center at night, getting a first impression of the place. Was it touristic? Very, but in a quite graceful way. Lively, but not messy. In short, it looked promising. And we went back to our guesthouse admiring temples enlightened at night.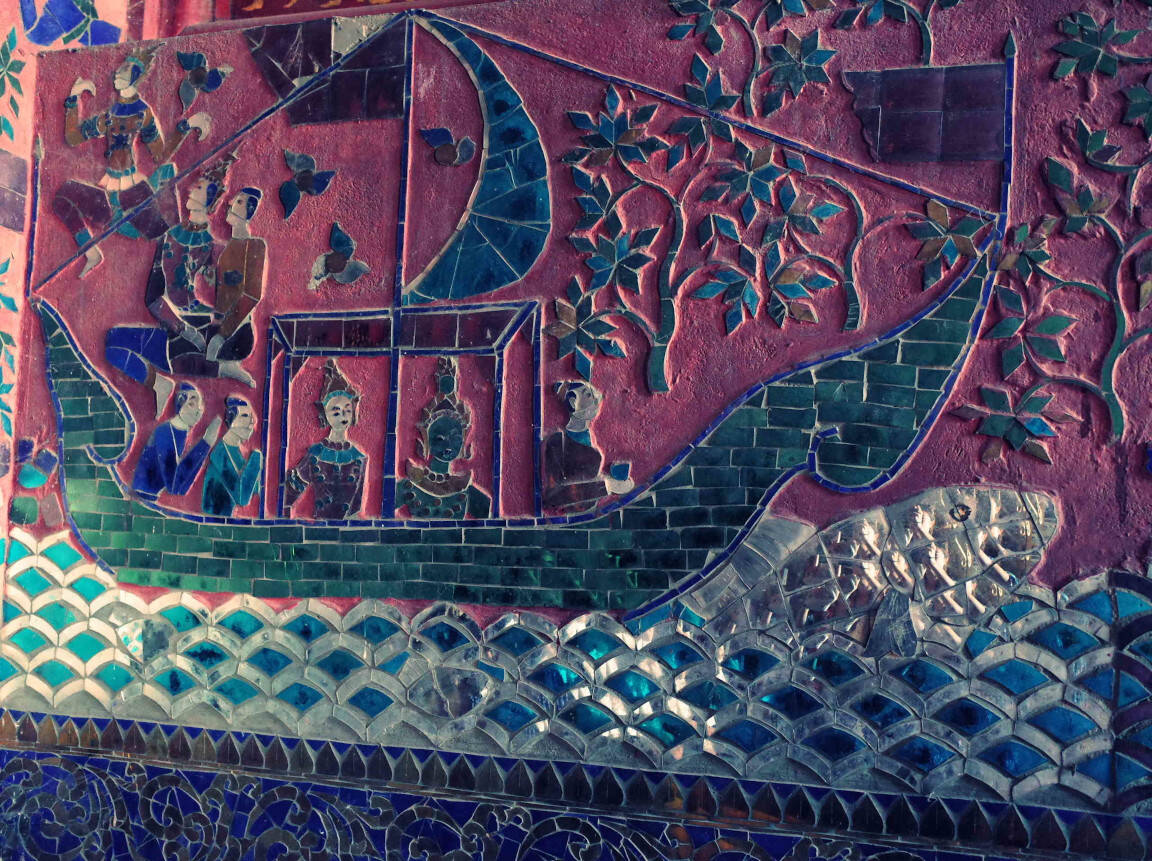 Who's reading this blog knows I don't usually write travel guides. Well, this article is an exception. Or maybe it isn't. In fact, the title of the next day could be: "How to NOT visit sites around Luang Prabang in one day". Basically, I opted for a standard itinerary: Pak Ou Caves, Kuang Si Waterfalls and a few stops along the way. And of course, to complete the day in the perfect touristic way, I arranged the times so that we could climb Phou Si mountain for the sunset. Please don't… Don't imitate me. My wife and I regretted a lot doing so. Isn't that itinerary worth, maybe? It is. Very. It's wonderful, stunning, magnificent. Please split in two days at least, if possible.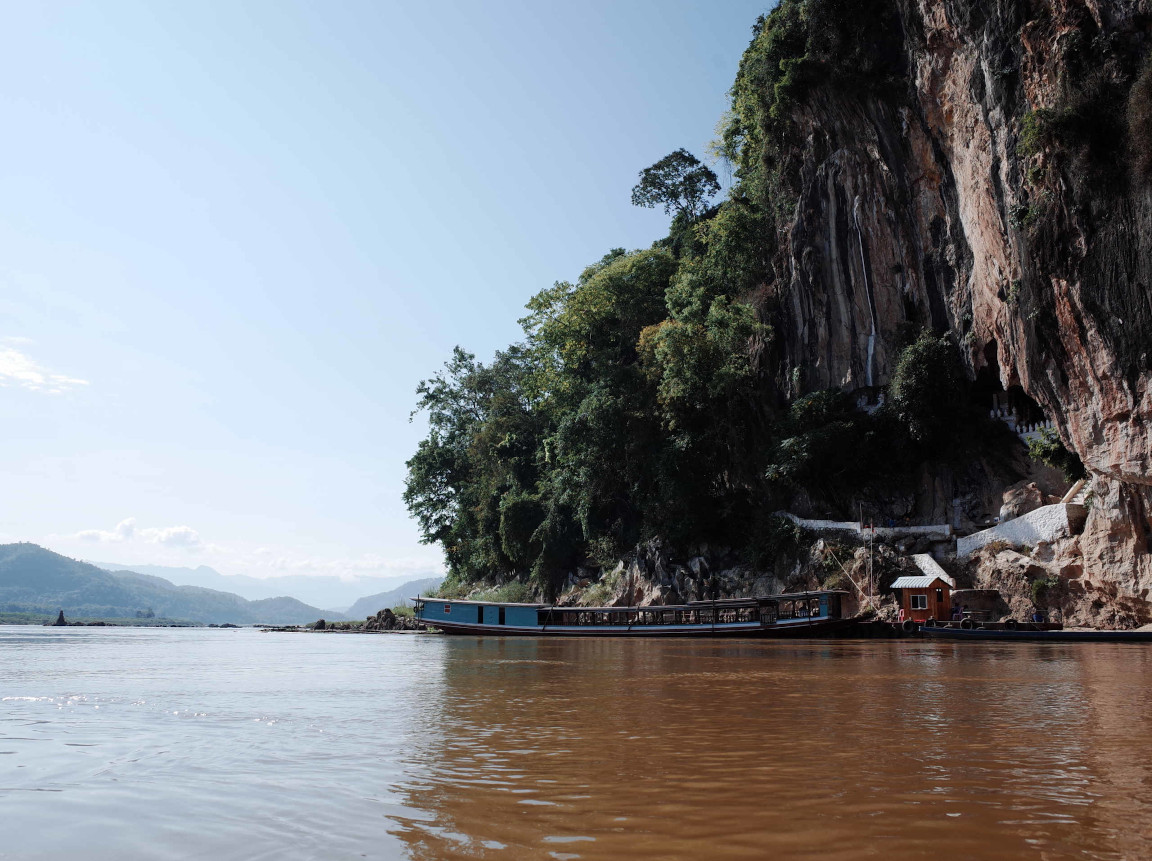 We reached the Pak Ou Caves via land. The caves are located on the other side of the Mekong river, so we needed to cross the river on a small boat anyway. Many other tourists reach it by a cruise directly from the city. It's slower, but I'm sure it's a worthy preparation for what is expecting you: caves completely full of Buddha statues. It's not only about the caves and its content: all the setting, overlooking the Mekong river, completes a melancholic, exhorting atmosphere.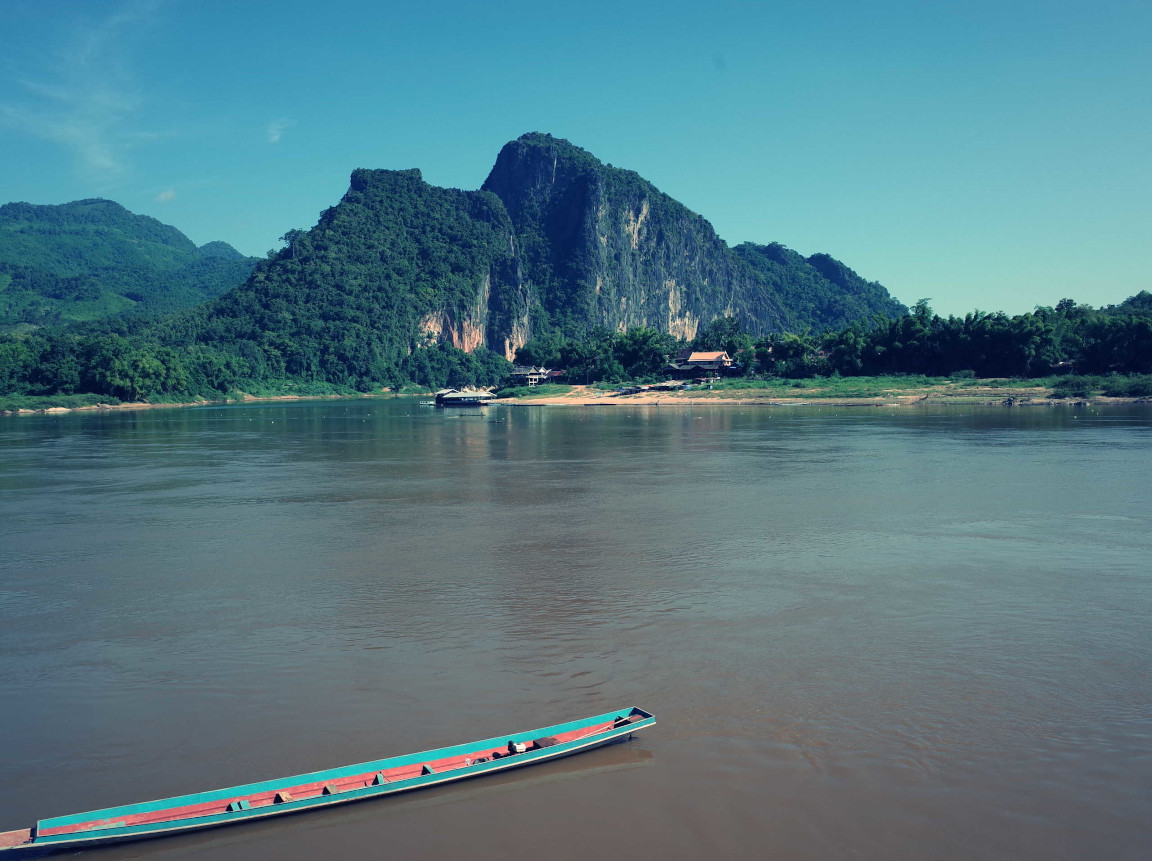 And we started understanding something. First sign.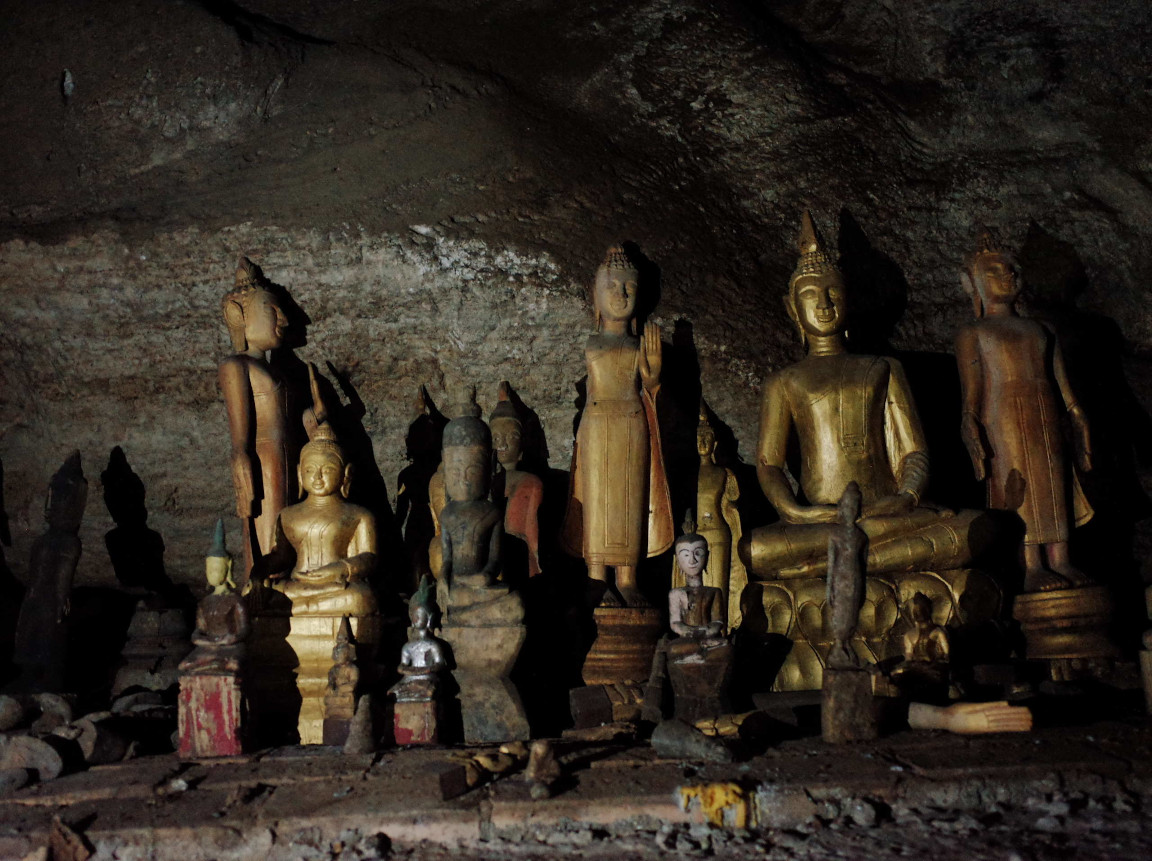 So far, I didn't say that for this short trip we were a group of three people. Besides me and my wife, there was also a (female) friend of hers. A guy even complimented me for hanging around with two wives! :) But that's not the point. The point was my wife and her friend were chatting all the time in the back of the car, so I could know the driver better and exchange many conversation topics with him (he was more or less my age and could speak very good English). We talked a bit about everything, mainly about Laos of course. He took us to have lunch in a very local (excellent) restaurant. And, guess what? I got my first informal job offer abroad.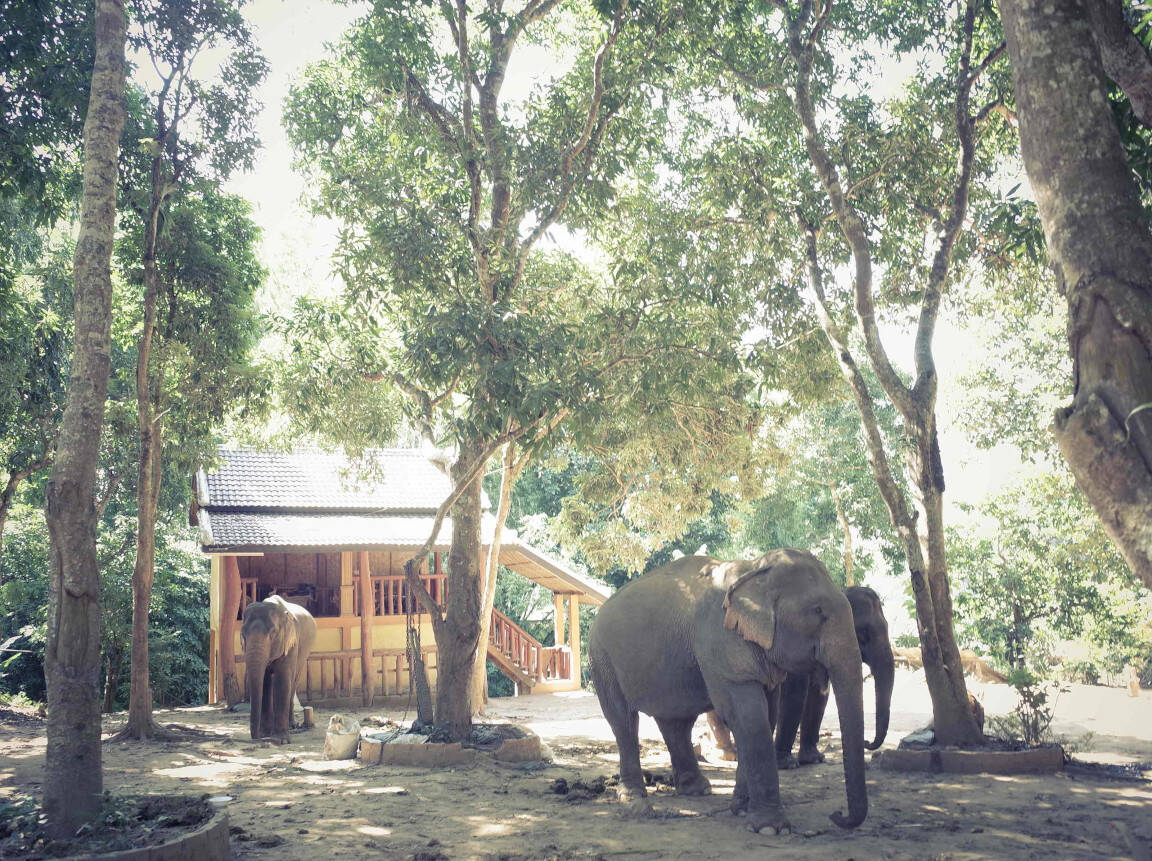 "Can you teach Italian to Laos guides? We don't have Italian speakers here, we would make much more money with Italian groups if we could use Italian." I do have a license to teach Italian to foreigners. But I never used it. So, he went further: "It'd be nice if you can teach us even Spanish. Can you?" Of course, I can't. I speak some Spanish, but teaching it is a different thing. Anyway, second sign.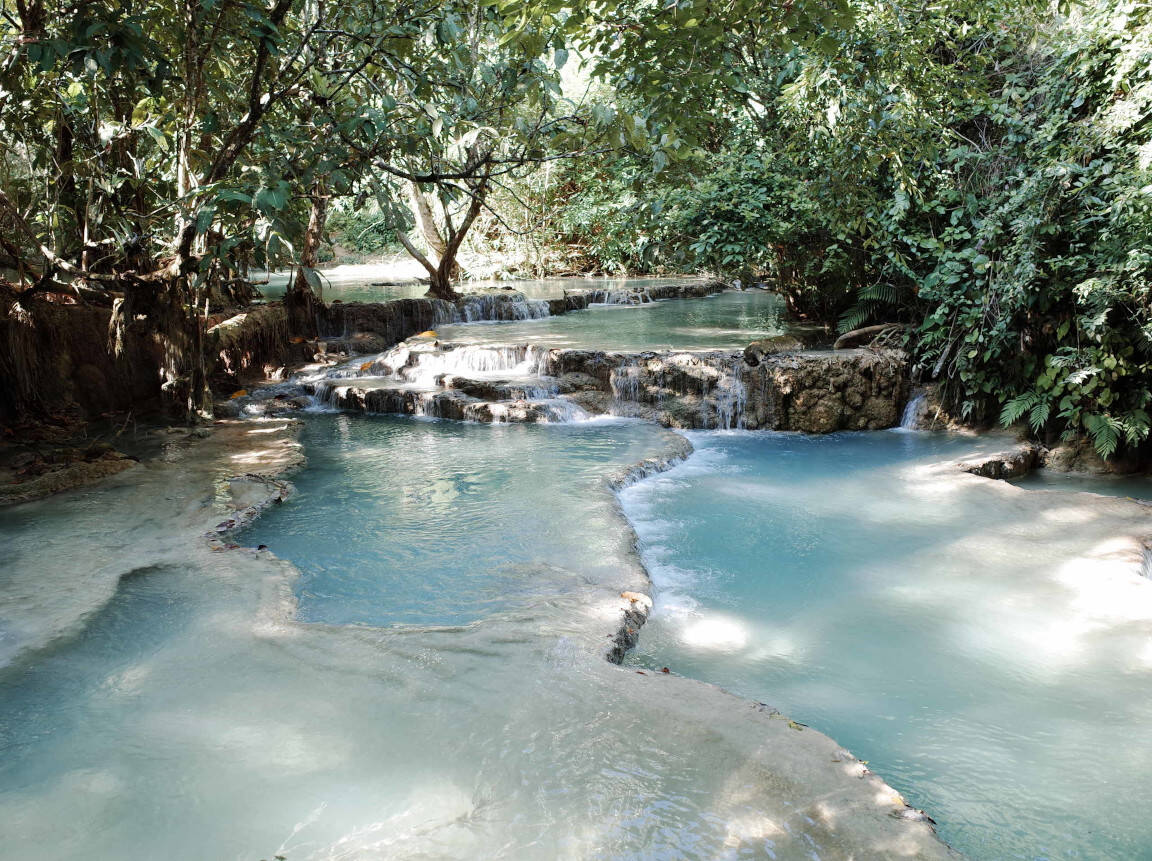 I won't narrate the stops from Pak Ou Caves to Kuang Si Waterfalls. If you like to buy some souvenirs or take a few interesting photos, you can go to a few places: for example, the Textile Village. But I won't suggest that if you're short on time. In my opinion, it would be better to spend time at the wonderful Kuang Si Waterfalls. They're not only stunningly beautiful; there are also many spots where you can take a refreshing bath and enjoy a half or a full day. We've stayed there just for a couple of hours: a big regret. Then we rushed back to Luang Prabang city to climb Phou Si mountain in time for the sunset. Nice, but very crowded. And let me just whisper this: I honestly think that the best view was not towards the sun, as you have 360 degrees of beauty to focus at.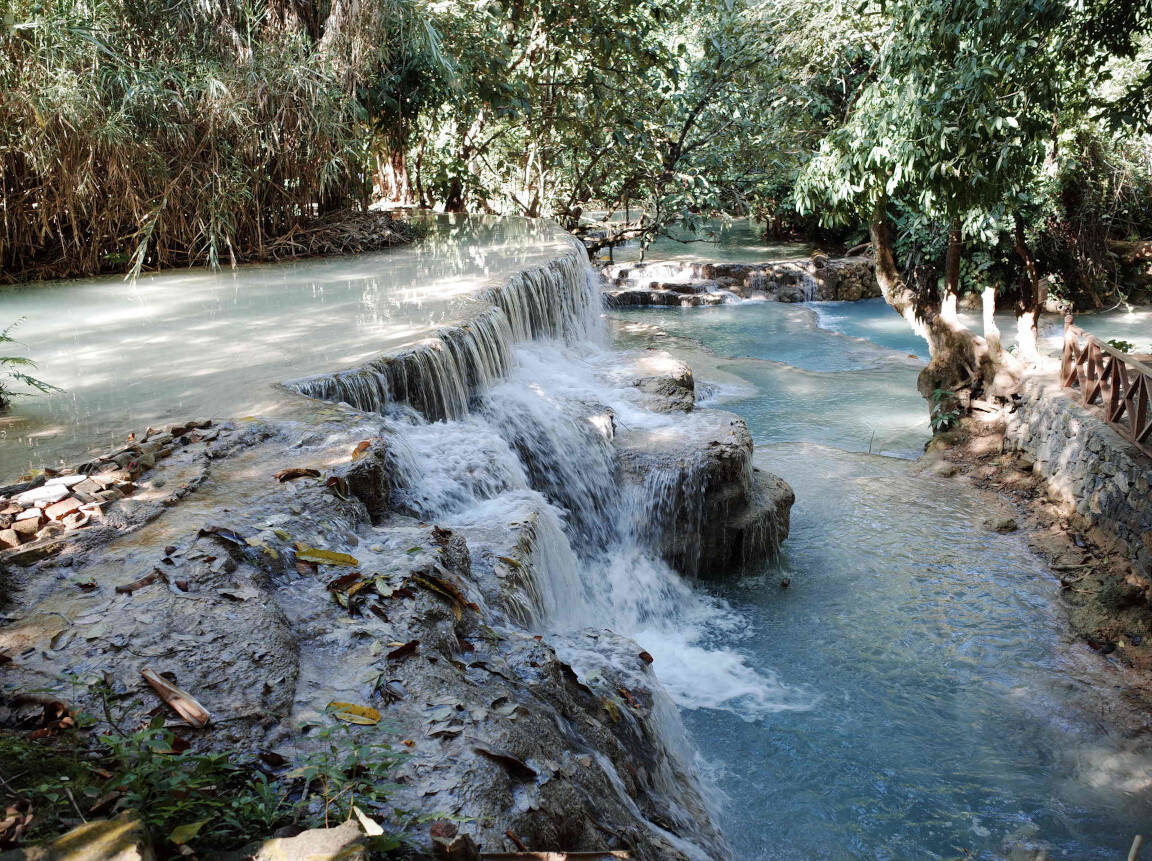 In the evening, my wife and I started chatting about how the day has been too hasty and how we should try to travel in a slower pace, to enjoy it more. That's the time I realized Luang Prabang had penetrated my soul.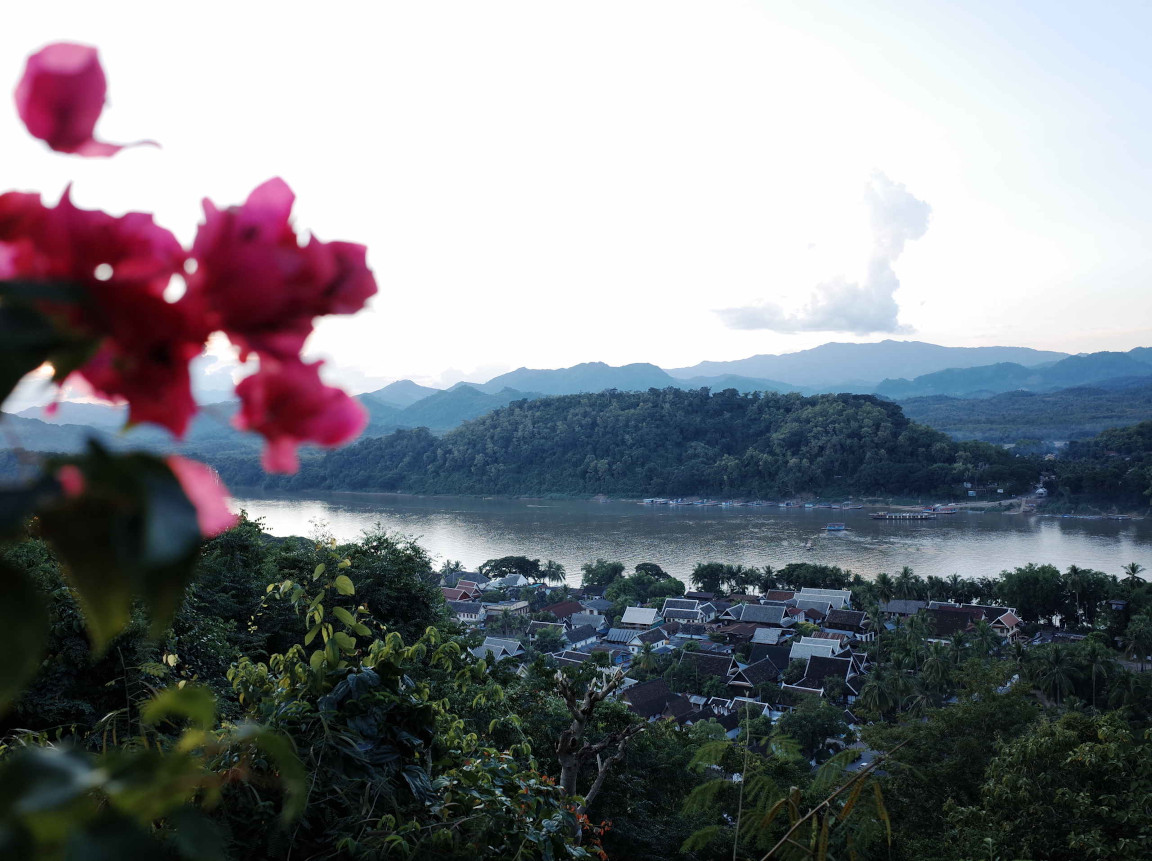 This city became a huge calling to me, a temptation to a different way of seeing and living life. The next day we eventually visited the city and its beautiful temples. And even enjoyed a short boat tour on the Mekong River, which melted skeins of stress inside me. Inside the Royal Palace, we appreciated the painted walls. We started fantasizing about an alternative lifestyle. "Would it be nice to have our house painted as well?" I asked my wife. "If we move here, we can ask that girl to paint it for us!" she replied to me, referring to an art student selling handmade paintings on the road.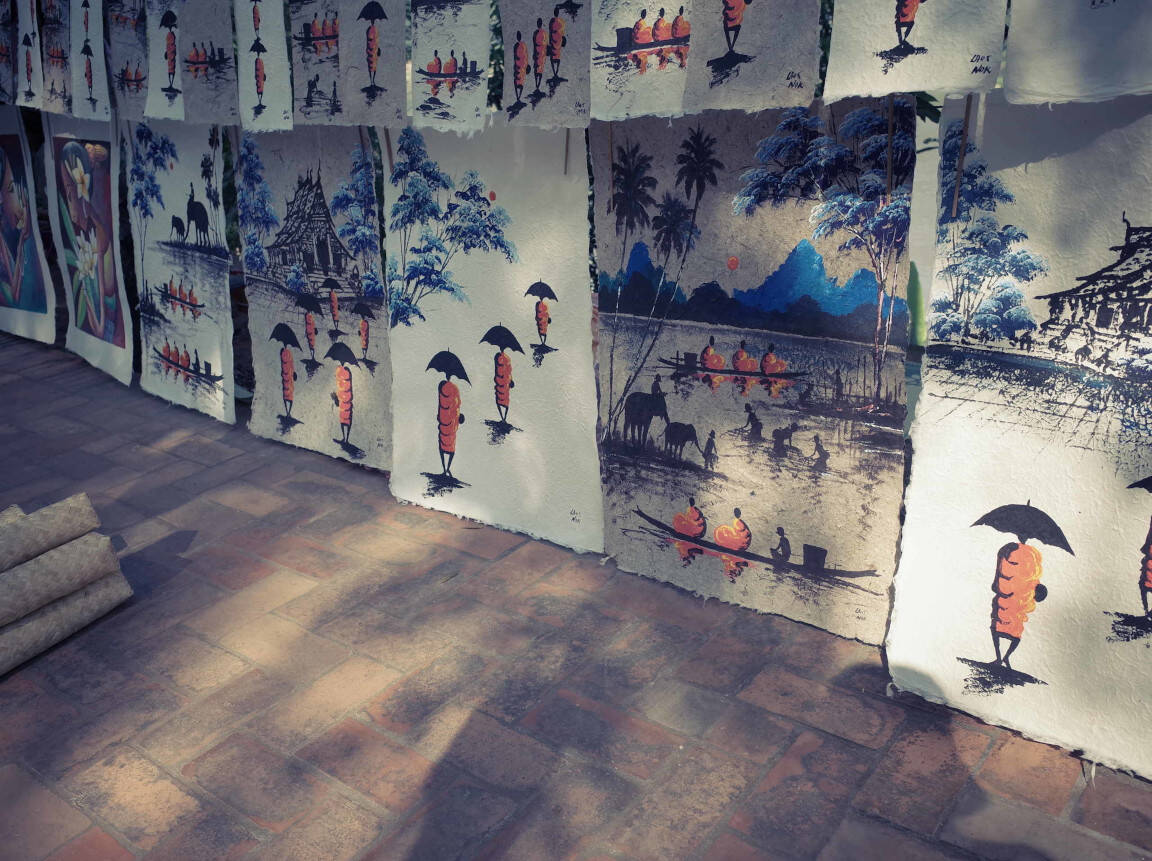 And then she went further: "If we open a guesthouse too, we can hire young gentlemen, like the boy at our reception. We would pay him more and give him more freedom to concentrate on his studies." Sentences like that went on the whole day, they kept going in the next days with a minor frequency. And we don't know how it could happen: we found ourselves back home, leading the same usual life.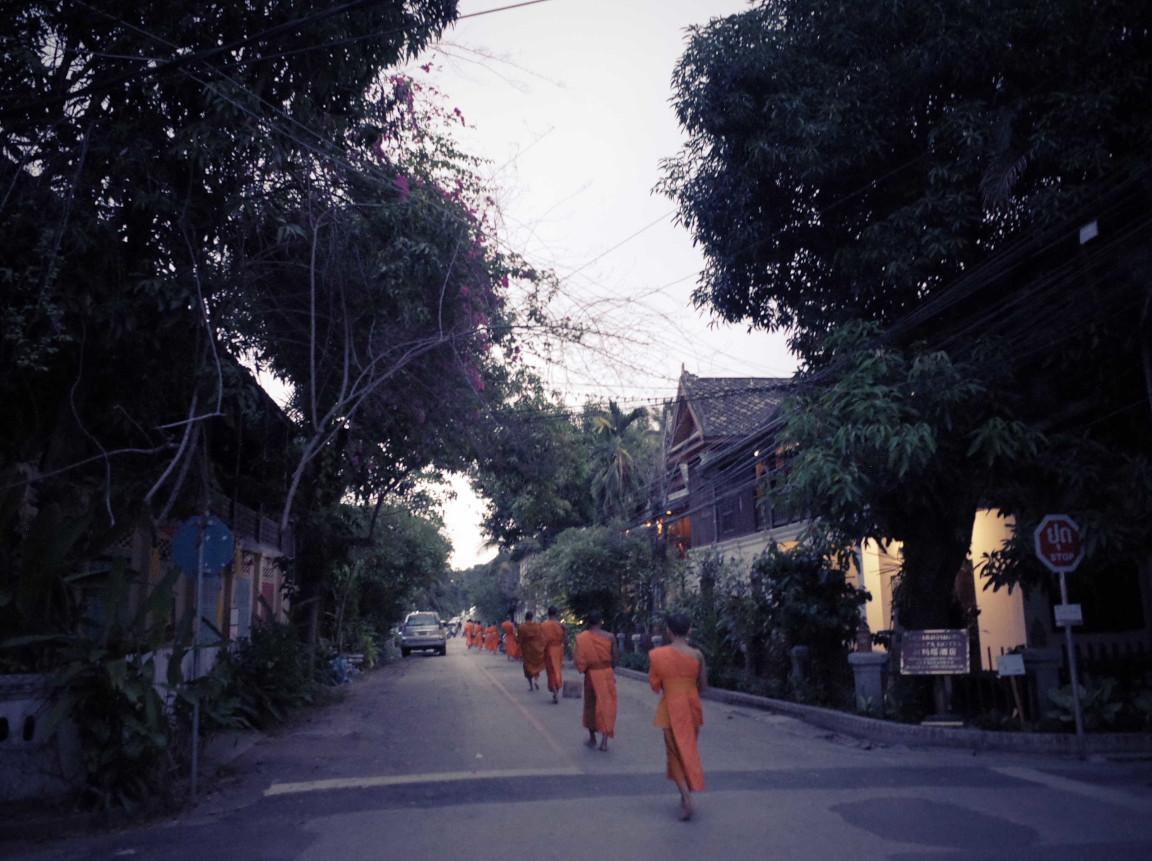 But the calling is still there, Luang Prabang found a permanent spot in my spirit. And I intend to go back there one day, maybe for another break, maybe to wait for my hair to get grey in front of the Mekong river.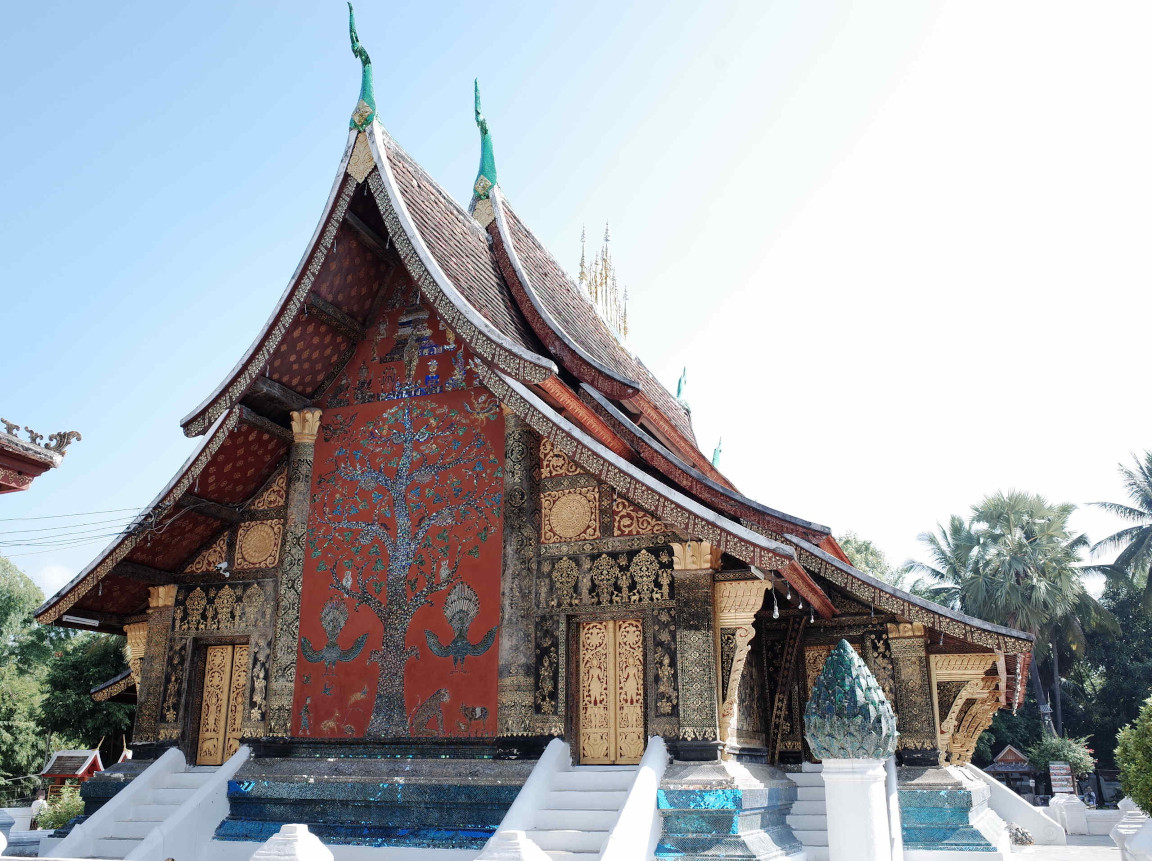 Some additional information:

Luang Prabang has an international airport, with a few connections with nearby countries, mainly from Thailand. Alternatively, you can reach it by road or, slowly, sailing the Mekong River.

Interesting sites around Luang Prabang:
- Kuang Si Waterfalls: approximately 30km from the city center. There many ways to get there: tours, private driver, tuk-tuk, shared tuk-tuk, shared minivan, taxi. Just choose one that fits your travel style and budget.

- Pak Ou Caves: located around 25km from Luang Prabang, they can be reached with the same options as Kuang Si Waterfalls. Besides this, the boat cruise is a popular and nice way to get there.

You can easily book tours to do all the itinerary in one day, stopping also to another few places along the road. I did it with a hired driver but, let me repeat myself, I regretted a lot my choice. Anyway, if you're short on time, it's feasible.
---
You might also like: